Please ensure that when making a purchase, all of the wines in your cart are one of either 'In Stock' or 'On Order' availability. Due to the complexities around taxes and shipping, we cannot accept online orders for 'In Stock' wines mixed with other availabilities. Thank you for your kind understanding.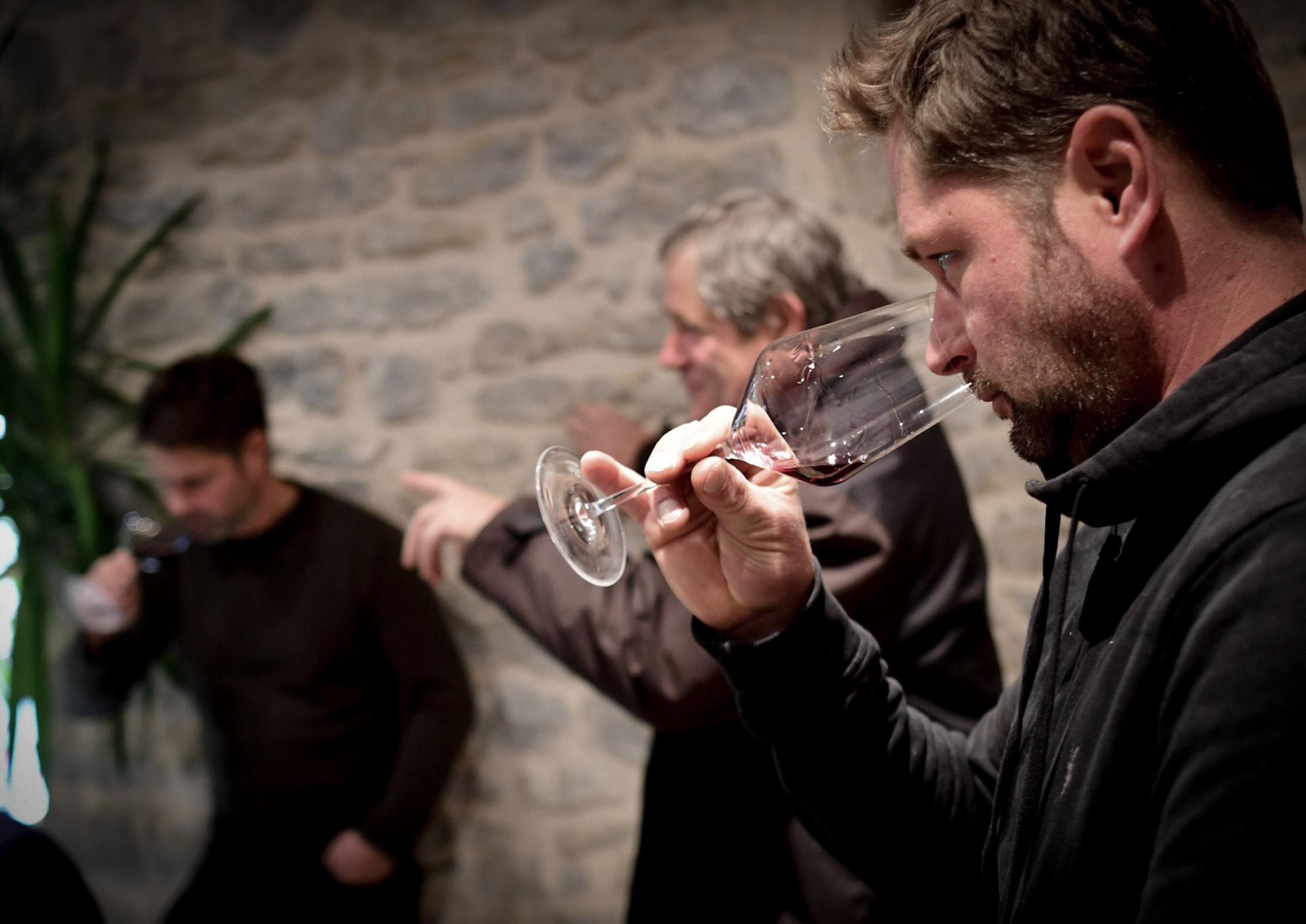 Domaine Bachelet-Monnot, run by brothers Marc and Alexandre Bachelet, was created in 2005 followed a reorganisation of the Bachelet family holdings in Maranges, Santenay, Chassagne and Puligny-Montrachet. It was boosted in 2011 when their father, suitably impressed with their achievements, handed over the rest of his vines to their careful supervision. The domaine's holdings now stand at 22 ha of which 8 ha are in the ever-improving commune of Maranges.
The Domaine is a rising star, with the brothers making the most of their prestigious talents, great terroir and old vines (offering low yields averaging 35 hl/ha). The estate follows organic viticultural practices and is 'très lutte raisonnée' (very sustainable), however, they choose not to be certified. The combination of old vines and careful management of the vineyards, along with using a mixture of barrel sizes and oak influence, results in wines of structure, which are crystalline, pure and concentrated. Whether drinking their Bourgognes or Grand Crus, Domaine Bachelet-Monnot is one of the most exciting Domaine's in the Côte de Beaune.
Status

In Bond wines have had no UK Duty or VAT paid on them. If In Bond wines are purchased for delivery to a UK address, UK Duty and VAT are required to be paid before the delivery can take place. If In Bond wines are purchased for storage in a bonded warehouse or for export, no UK Duty or VAT will be payable.

Duty Paid wines have been removed from the Bond and UK Duty has been paid on them. If Duty Paid wines are purchased for delivery to a UK address or storage in a bonded warehouse, UK VAT is required to be paid. If Duty Paid wines are purchased for export, no UK VAT will be payable.

Availability

In Stock wines are available for immediate delivery, storage or collection. They must be purchased separately from On Order wines. If applicable, UK Duty / VAT and shipping costs will be charged at checkout.

On Order

wines are not yet available for delivery, storage or collection. They can still be purchased, but separately from

In Stock

wines, and no UK Duty / VAT or shipping costs will be charged at checkout. Once the wines have arrived at our warehouse, a member of the team will be in touch to organise the delivery, storage or collection as per your preferences, and arrange any additional invoicing required.

Price

The IN BOND pricing view will show prices excluding UK Duty and VAT for In Bond wines, and excluding VAT for Duty Paid wines. Please select the IN BOND view if your purchase is for storage in a bonded warehouse or for export.

The DUTY PAID pricing view will show prices including UK Duty and VAT for In Bond wines, and including VAT for Duty Paid wines. Please select the DUTY PAID view if you would like to purchase wines for UK delivery.

Please note that the UK VAT must be paid for Duty Paid wines if they are purchased for storage.

£

20.00

(Exc. UK Duty & VAT)

£

27.20

Inc. UK Duty & VAT

£

131.00

(Exc. UK Duty & VAT)

£

176.42

Inc. UK Duty & VAT

£

120.00

(Exc. UK Duty & VAT)

£

163.22

Inc. UK Duty & VAT

£

90.00

(Exc. UK Duty & VAT)

£

127.22

Inc. UK Duty & VAT

£

125.00

(Exc. UK Duty & VAT)

£

169.22

Inc. UK Duty & VAT

£

15.00

(Exc. UK Duty & VAT)

£

21.20

Inc. UK Duty & VAT

£

15.00

(Exc. UK Duty & VAT)

£

21.20

Inc. UK Duty & VAT

£

171.00

(Exc. UK Duty & VAT)

£

243.65

Inc. UK Duty & VAT

£

171.00

(Exc. UK Duty & VAT)

£

243.65

Inc. UK Duty & VAT

£

320.00

(Exc. UK Duty & VAT)

£

403.22

Inc. UK Duty & VAT

£

45.00

(Exc. UK Duty & VAT)

£

57.20

Inc. UK Duty & VAT

£

266.00

(Exc. UK Duty & VAT)

£

338.42

Inc. UK Duty & VAT

£

165.00

(Exc. UK Duty & VAT)

£

217.22

Inc. UK Duty & VAT

£

125.00

(Exc. UK Duty & VAT)

£

169.22

Inc. UK Duty & VAT

£

19.00

(Exc. UK Duty & VAT)

£

26.00

Inc. UK Duty & VAT

£

21.00

(Exc. UK Duty & VAT)

£

28.40

Inc. UK Duty & VAT

£

125.00

(Exc. UK Duty & VAT)

£

169.22

Inc. UK Duty & VAT

£

20.00

(Exc. UK Duty & VAT)

£

27.20

Inc. UK Duty & VAT

£

125.00

(Exc. UK Duty & VAT)

£

169.22

Inc. UK Duty & VAT

£

188.00

(Exc. UK Duty & VAT)

£

244.82

Inc. UK Duty & VAT

£

165.00

(Exc. UK Duty & VAT)

£

217.22

Inc. UK Duty & VAT

£

21.00

(Exc. UK Duty & VAT)

£

28.40

Inc. UK Duty & VAT

£

125.00

(Exc. UK Duty & VAT)

£

169.22

Inc. UK Duty & VAT

£

350.00

(Exc. UK Duty & VAT)

£

439.22

Inc. UK Duty & VAT

£

245.00

(Exc. UK Duty & VAT)

£

313.22

Inc. UK Duty & VAT

£

350.00

(Exc. UK Duty & VAT)

£

439.22

Inc. UK Duty & VAT

£

52.00

(Exc. UK Duty & VAT)

£

65.60

Inc. UK Duty & VAT

£

311.00

(Exc. UK Duty & VAT)

£

392.42

Inc. UK Duty & VAT

£

975.00

(Exc. UK Duty & VAT)

£

1,189.22

Inc. UK Duty & VAT

£

27.00

(Exc. UK Duty & VAT)

£

35.60

Inc. UK Duty & VAT

£

161.00

(Exc. UK Duty & VAT)

£

212.42

Inc. UK Duty & VAT

£

125.00

(Exc. UK Duty & VAT)

£

169.22

Inc. UK Duty & VAT

£

116.00

(Exc. UK Duty & VAT)

£

158.42

Inc. UK Duty & VAT

£

135.00

(Exc. UK Duty & VAT)

£

181.22

Inc. UK Duty & VAT

£

275.00

(Exc. UK Duty & VAT)

£

349.22

Inc. UK Duty & VAT

£

195.00

(Exc. UK Duty & VAT)

£

253.22

Inc. UK Duty & VAT

£

146.00

(Exc. UK Duty & VAT)

£

194.42

Inc. UK Duty & VAT