Domaine Lafouge Jean & Gilles
Please ensure that when making a purchase, all of the wines in your cart are one of either 'In Stock' or 'On Order' availability. Due to the complexities around taxes and shipping, we cannot accept online orders for 'In Stock' wines mixed with other availabilities. Thank you for your kind understanding.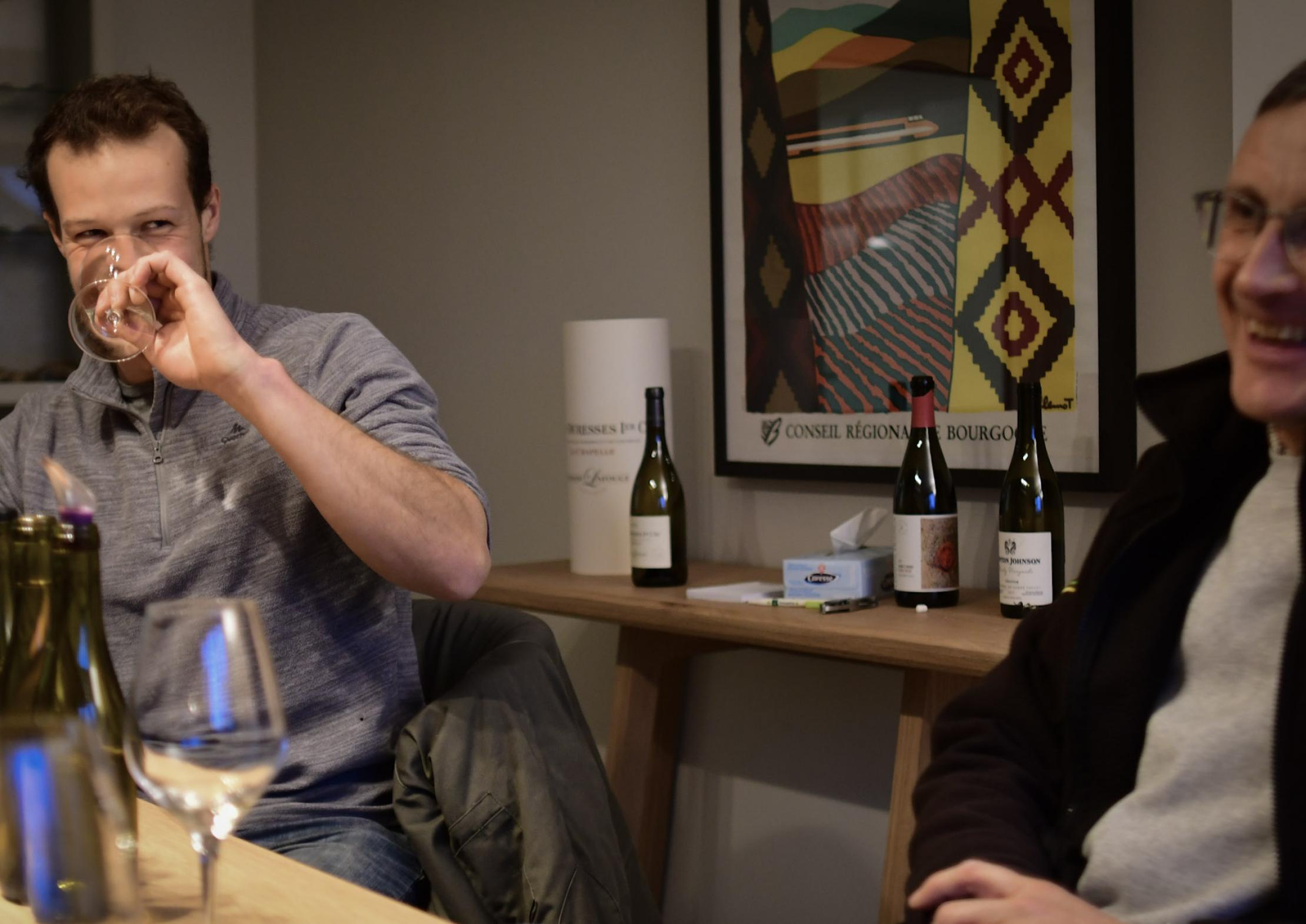 Domaine Lafouge Jean & Gilles
Gilles Lafouge is now the fifth generation to run the Domaine and his son, Maxime, currently at the Lycée viticole, will follow in Gilles's footsteps very soon. Luckily for us at Latimer, Gilles was James', our buying Director, neighbour when he used to live in Burgundy. The Bachelet-Monnot brothers had recommended Lafouge to James who sought an introduction. A few conversations later, James was trying the wines and was struck by the quality. Latimer are now distributors of these lovely wines.
Most of the vineyard holdings are in Auxey-Duresses with a few vineyards in Meursault and Pommard, all of which are farmed organically. The estate is a good example of what Auxey-Duresses has to offer, with grapes coming from the best vineyards such as Duresses (exclusively available at Latimer) and Climat du Val for the reds. Auxey is where one can find value for money which is not compromised by a lack of quality. With global warming now helping ripeness in areas that once were a little too cool, Auxey-Duresses should no longer be overlooked as a "lesser appellation".
The wines of Lafouge show a fine balance of purity and freshness for the whites, with depth and structure for the reds. Since Gilles moved in his new winery in 2016, the wines have improved in quality with 2019 being some of the best he has ever made. With a high proportion of old vines, a dedication to caring for their terroir and a keen eye for detail, Domaine Jean & Gilles Lafouge has huge potential which is now being realised.
Status

In Bond wines have had no UK Duty or VAT paid on them. If In Bond wines are purchased for delivery to a UK address, UK Duty and VAT are required to be paid before the delivery can take place. If In Bond wines are purchased for storage in a bonded warehouse or for export, no UK Duty or VAT will be payable.

Duty Paid wines have been removed from the Bond and UK Duty has been paid on them. If Duty Paid wines are purchased for delivery to a UK address or storage in a bonded warehouse, UK VAT is required to be paid. If Duty Paid wines are purchased for export, no UK VAT will be payable.

Availability

In Stock wines are available for immediate delivery, storage or collection. They must be purchased separately from On Order wines. If applicable, UK Duty / VAT and shipping costs will be charged at checkout.

On Order

wines are not yet available for delivery, storage or collection. They can still be purchased, but separately from

In Stock

wines, and no UK Duty / VAT or shipping costs will be charged at checkout. Once the wines have arrived at our warehouse, a member of the team will be in touch to organise the delivery, storage or collection as per your preferences, and arrange any additional invoicing required.

Price

The IN BOND pricing view will show prices excluding UK Duty and VAT for In Bond wines, and excluding VAT for Duty Paid wines. Please select the IN BOND view if your purchase is for storage in a bonded warehouse or for export.

The DUTY PAID pricing view will show prices including UK Duty and VAT for In Bond wines, and including VAT for Duty Paid wines. Please select the DUTY PAID view if you would like to purchase wines for UK delivery.

Please note that the UK VAT must be paid for Duty Paid wines if they are purchased for storage.

£

120.00

(Exc. UK Duty & VAT)

£

163.22

Inc. UK Duty & VAT

£

120.00

(Exc. UK Duty & VAT)

£

163.22

Inc. UK Duty & VAT

£

16.00

(Exc. UK Duty & VAT)

£

22.40

Inc. UK Duty & VAT

£

95.00

(Exc. UK Duty & VAT)

£

133.22

Inc. UK Duty & VAT

£

150.00

(Exc. UK Duty & VAT)

£

199.22

Inc. UK Duty & VAT

£

155.00

(Exc. UK Duty & VAT)

£

205.22

Inc. UK Duty & VAT

£

170.00

(Exc. UK Duty & VAT)

£

223.22

Inc. UK Duty & VAT

£

145.00

(Exc. UK Duty & VAT)

£

193.15

Inc. UK Duty & VAT

£

155.00

(Exc. UK Duty & VAT)

£

205.22

Inc. UK Duty & VAT

£

25.00

(Exc. UK Duty & VAT)

£

33.20

Inc. UK Duty & VAT

£

150.00

(Exc. UK Duty & VAT)

£

199.22

Inc. UK Duty & VAT

£

145.00

(Exc. UK Duty & VAT)

£

193.22

Inc. UK Duty & VAT

£

150.00

(Exc. UK Duty & VAT)

£

199.22

Inc. UK Duty & VAT

£

146.00

(Exc. UK Duty & VAT)

£

194.42

Inc. UK Duty & VAT

£

25.00

(Exc. UK Duty & VAT)

£

33.20

Inc. UK Duty & VAT

£

120.00

(Exc. UK Duty & VAT)

£

163.22

Inc. UK Duty & VAT

£

20.00

(Exc. UK Duty & VAT)

£

27.20

Inc. UK Duty & VAT

£

120.00

(Exc. UK Duty & VAT)

£

163.22

Inc. UK Duty & VAT

£

150.00

(Exc. UK Duty & VAT)

£

199.22

Inc. UK Duty & VAT

£

25.00

(Exc. UK Duty & VAT)

£

33.20

Inc. UK Duty & VAT

£

146.00

(Exc. UK Duty & VAT)

£

194.42

Inc. UK Duty & VAT

£

98.00

(Exc. UK Duty & VAT)

£

136.82

Inc. UK Duty & VAT

£

101.00

(Exc. UK Duty & VAT)

£

140.42

Inc. UK Duty & VAT

£

75.00

(Exc. UK Duty & VAT)

£

109.22

Inc. UK Duty & VAT

£

13.00

(Exc. UK Duty & VAT)

£

18.80

Inc. UK Duty & VAT

£

13.00

(Exc. UK Duty & VAT)

£

18.80

Inc. UK Duty & VAT

£

40.00

(Exc. UK Duty & VAT)

£

51.20

Inc. UK Duty & VAT

£

236.00

(Exc. UK Duty & VAT)

£

302.42

Inc. UK Duty & VAT

£

26.00

(Exc. UK Duty & VAT)

£

34.40

Inc. UK Duty & VAT

£

225.00

(Exc. UK Duty & VAT)

£

289.22

Inc. UK Duty & VAT

£

195.00

(Exc. UK Duty & VAT)

£

253.22

Inc. UK Duty & VAT

£

33.00

(Exc. UK Duty & VAT)

£

42.80

Inc. UK Duty & VAT

£

215.00

(Exc. UK Duty & VAT)

£

277.22

Inc. UK Duty & VAT

£

260.00

(Exc. UK Duty & VAT)

£

331.22

Inc. UK Duty & VAT

£

36.00

(Exc. UK Duty & VAT)

£

46.40

Inc. UK Duty & VAT

£

215.00

(Exc. UK Duty & VAT)

£

277.22

Inc. UK Duty & VAT

£

180.00

(Exc. UK Duty & VAT)

£

235.22

Inc. UK Duty & VAT

£

195.00

(Exc. UK Duty & VAT)

£

253.22

Inc. UK Duty & VAT

£

30.00

(Exc. UK Duty & VAT)

£

39.20

Inc. UK Duty & VAT

£

180.00

(Exc. UK Duty & VAT)

£

235.22

Inc. UK Duty & VAT