Please ensure that when making a purchase, all of the wines in your cart are one of either 'In Stock' or 'On Order' availability. Due to the complexities around taxes and shipping, we cannot accept online orders for 'In Stock' wines mixed with other availabilities. Thank you for your kind understanding.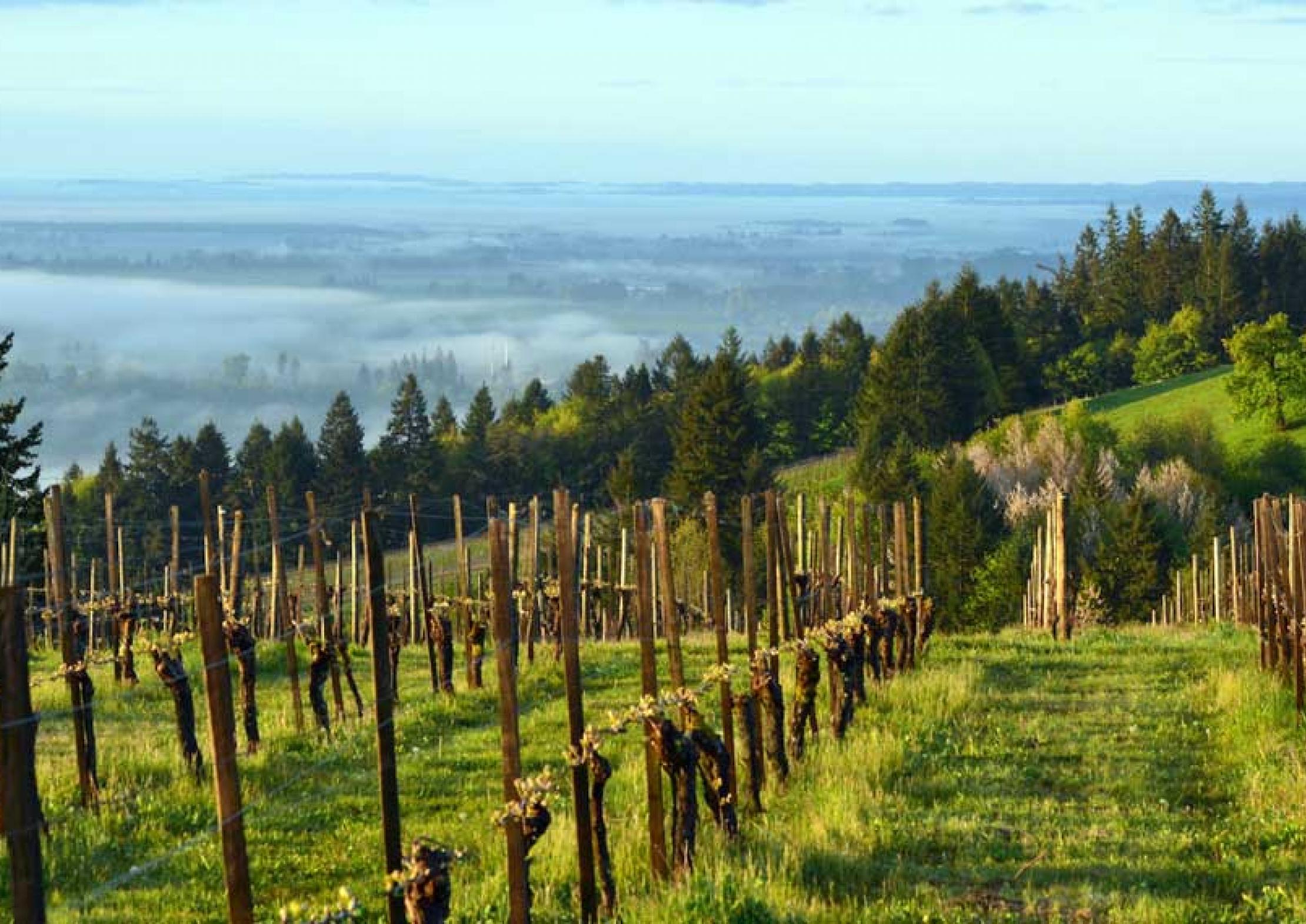 David Lett of Eyrie Vineyards was the first person to plant Pinot Noir in the Willamette Valley 56 years ago. His first vintage was 1970. Since 2005, his son Jason has been at the helm and the wines have a much deserved and dedicated worldwide following. They are made in tiny quantities and show great elegance and complexity, truly demonstrating what can be achieved in Oregon with Pinot Noir.
In 1979 Becky Wasserman entered two bottles of The Eyrie Vineyards, Pinot Noir Reserve 1975 into an international Pinot Noir blind tasting in France, known as The Wine Olympics. Eyrie placed in the top 10, a result which did not grab headlines the Judgement of Paris had made a few years earlier. A year later, Robert Drouhin, of Burgundy négociant Maison Joseph Drouhin, organised a rematch in Beaune. This time, The Eyrie Vineyards 1975 came in second. Eyrie, as well as an Estate Pinot Noir, produces five single vineyard bottlings, all in small quantities. This is refined New World Pinot, perfect for Burgundy lovers.
Status

In Bond wines have had no UK Duty or VAT paid on them. If In Bond wines are purchased for delivery to a UK address, UK Duty and VAT are required to be paid before the delivery can take place. If In Bond wines are purchased for storage in a bonded warehouse or for export, no UK Duty or VAT will be payable.

Duty Paid wines have been removed from the Bond and UK Duty has been paid on them. If Duty Paid wines are purchased for delivery to a UK address or storage in a bonded warehouse, UK VAT is required to be paid. If Duty Paid wines are purchased for export, no UK VAT will be payable.

Availability

In Stock wines are available for immediate delivery, storage or collection. They must be purchased separately from On Order wines. If applicable, UK Duty / VAT and shipping costs will be charged at checkout.

On Order

wines are not yet available for delivery, storage or collection. They can still be purchased, but separately from

In Stock

wines, and no UK Duty / VAT or shipping costs will be charged at checkout. Once the wines have arrived at our warehouse, a member of the team will be in touch to organise the delivery, storage or collection as per your preferences, and arrange any additional invoicing required.

Price

The IN BOND pricing view will show prices excluding UK Duty and VAT for In Bond wines, and excluding VAT for Duty Paid wines. Please select the IN BOND view if your purchase is for storage in a bonded warehouse or for export.

The DUTY PAID pricing view will show prices including UK Duty and VAT for In Bond wines, and including VAT for Duty Paid wines. Please select the DUTY PAID view if you would like to purchase wines for UK delivery.

Please note that the UK VAT must be paid for Duty Paid wines if they are purchased for storage.

£

231.00

(Exc. UK Duty & VAT)

£

315.65

Inc. UK Duty & VAT

£

408.00

(Exc. UK Duty & VAT)

£

528.05

Inc. UK Duty & VAT

£

20.00

(Exc. UK Duty & VAT)

£

27.20

Inc. UK Duty & VAT

£

38.00

(Exc. UK Duty & VAT)

£

48.80

Inc. UK Duty & VAT

£

59.00

(Exc. UK Duty & VAT)

£

74.00

Inc. UK Duty & VAT

£

432.00

(Exc. UK Duty & VAT)

£

556.85

Inc. UK Duty & VAT

£

39.00

(Exc. UK Duty & VAT)

£

50.00

Inc. UK Duty & VAT

£

34.00

(Exc. UK Duty & VAT)

£

44.00

Inc. UK Duty & VAT

£

35.00

(Exc. UK Duty & VAT)

£

45.20

Inc. UK Duty & VAT

£

399.00

(Exc. UK Duty & VAT)

£

517.25

Inc. UK Duty & VAT

£

291.00

(Exc. UK Duty & VAT)

£

368.42

Inc. UK Duty & VAT

£

750.00

(Exc. UK Duty & VAT)

£

938.45

Inc. UK Duty & VAT

£

363.00

(Exc. UK Duty & VAT)

£

454.82

Inc. UK Duty & VAT