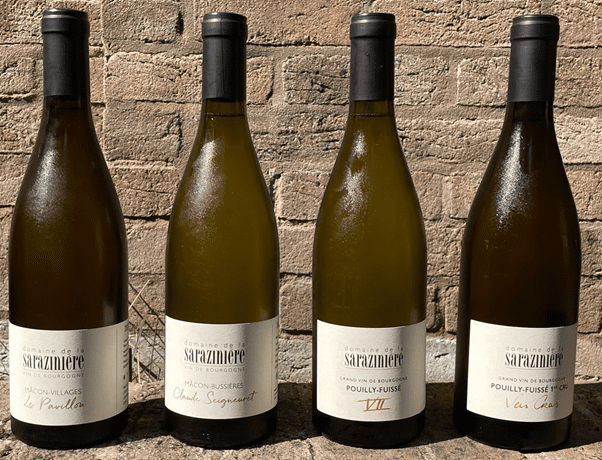 Domaine de la Sarazinere, excellent Burgundy at very reasonable prices.
We are delighted to announce the arrival of our latest shipment from Domaine de la Sarazinière. The wines they offer are regularly our suggestions for those looking for some "everyday wines" as they are some of the most drinkable and reasonably priced wines to be found in Burgundy today.
Their entry level Mâcon Bussières 'Le Pavillon' is an ideal house white, exceedingly drinkable and versatile, without breaking the bank. The Mâcon Bussières 'Cuvée Claude Seigneuret' is a noticeable step up. Very old vines and a small proportion of new oak barrels adds texture and weight alongside a fresh and saline finish.
Finally, in recent years Domaine de la Sarazinière have been able to acquire vines in the rapidly recognised and now revered appellation of Pouilly-Fuissé. We have their 2022 'Le VII' as well as a small amount of 2020 1er Cru Ver Cras, which is drinking beautifully at the moment.
Domaine de la Sarazinière
Father and son, Philippe and Guillaume Trébignaud are at the helm of this fantastic family run, organic-minded domaine based in the south Mâconnais, in the villages of Bussières. The majority of the vines are still the original plantings from the mid 1920's, while almost all of the cuvées are comprised of vines averaging 45 to 60 years old of age. The cuvée Seigneuret, a homage to Claude who started the domaine, is made from 60 y.o vines, aged in 10% new oak and shows a remarkable complexity. Cuvée Le Pavillon is a blend of 2 vineyards in Bussières (15 and 70 y.o vines), is vinified in stainless steel only and shows minerality and freshness. There is also a Mâcon-Bussières rouge which is made from 100% own rooted Gamay, planted in 1926. These are deliciously structured wines which out perform their appellation status, offering incredible value for money and immediate drinking pleasure. White Burgundy enthusiasts should not miss out on these superb wines.
Please ensure that when making a purchase, all of the wines in your cart are one of either 'In Stock' or 'On Order' availability. Due to the complexities around taxes and shipping, we cannot accept online orders for 'In Stock' wines mixed with other availabilities. Thank you for your kind understanding.
Status

In Bond wines have had no UK Duty or VAT paid on them. If In Bond wines are purchased for delivery to a UK address, UK Duty and VAT are required to be paid before the delivery can take place. If In Bond wines are purchased for storage in a bonded warehouse or for export, no UK Duty or VAT will be payable.

Duty Paid wines have been removed from the Bond and UK Duty has been paid on them. If Duty Paid wines are purchased for delivery to a UK address or storage in a bonded warehouse, UK VAT is required to be paid. If Duty Paid wines are purchased for export, no UK VAT will be payable.

Availability

In Stock wines are available for immediate delivery, storage or collection. They must be purchased separately from On Order wines. If applicable, UK Duty / VAT and shipping costs will be charged at checkout.

On Order

wines are not yet available for delivery, storage or collection. They can still be purchased, but separately from

In Stock

wines, and no UK Duty / VAT or shipping costs will be charged at checkout. Once the wines have arrived at our warehouse, a member of the team will be in touch to organise the delivery, storage or collection as per your preferences, and arrange any additional invoicing required.

Price

The IN BOND pricing view will show prices excluding UK Duty and VAT for In Bond wines, and excluding VAT for Duty Paid wines. Please select the IN BOND view if your purchase is for storage in a bonded warehouse or for export.

The DUTY PAID pricing view will show prices including UK Duty and VAT for In Bond wines, and including VAT for Duty Paid wines. Please select the DUTY PAID view if you would like to purchase wines for UK delivery.

Please note that the UK VAT must be paid for Duty Paid wines if they are purchased for storage.

£

21.00

(Exc. UK Duty & VAT)

£

28.40

Inc. UK Duty & VAT

£

250.00

(Exc. UK Duty & VAT)

£

338.45

Inc. UK Duty & VAT

£

17.00

(Exc. UK Duty & VAT)

£

23.60

Inc. UK Duty & VAT

£

195.00

(Exc. UK Duty & VAT)

£

272.45

Inc. UK Duty & VAT

£

160.00

(Exc. UK Duty & VAT)

£

230.45

Inc. UK Duty & VAT

£

14.00

(Exc. UK Duty & VAT)

£

20.00

Inc. UK Duty & VAT

£

135.00

(Exc. UK Duty & VAT)

£

200.45

Inc. UK Duty & VAT

£

12.00

(Exc. UK Duty & VAT)

£

17.60

Inc. UK Duty & VAT

£

130.00

(Exc. UK Duty & VAT)

£

194.45

Inc. UK Duty & VAT

£

11.00

(Exc. UK Duty & VAT)

£

16.40

Inc. UK Duty & VAT